Adverse Effect Wage Rate
Under the code of federal regulations governing the H-2A temporary agricultural worker program, the adverse effect wage rate (AEWR) is the minimum wage rate that employers must offer and pay to U.S. and alien workers by agricultural employers.
The Department of Labor publishes the AEWR annually for field and livestock workers (combined) in the States or regions based on data from the U.S. Department of Agriculture's (USDA) quarterly wage survey.
Farm Labor Methodology and Quality Measures
This National Agricultural Statistics Service (NASS) document reviews the methodology and quality measures of their Agricultural Farm Labor Surveys.
Mechanization Trends in Agriculture
United States Department of Agriculture Efforts to Promote New Technology
The USDA has six programs in its Agricultural Marketing Service (AMS), National Institute of Food and Agriculture (NIFA), and Agricultural Research Services (ARS) agencies that accelerate the development and use of automation or mechanization in the production and processing of U.S. specialty crops.
AMS, NIFA, and ARS funded more than $287 million towards 213 projects between fiscal years 2008 and 2018.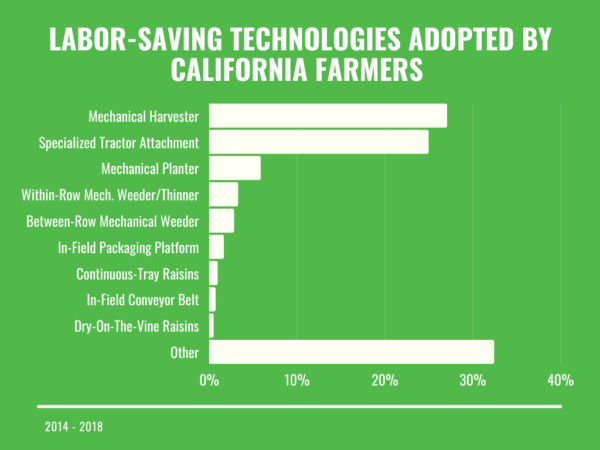 Respondents were asked, "Which labor-saving technology reduced your labor needs the most for the production of your main crop in your main county?"
Respondents were asked, "What made you decide to use the [technology selected above] to produce [your main crop] in [your main] county that first year? (please select all that apply)"
Land Border Proof of Vaccination Mandate
Respondents were asked, "Have you experienced any of the following negative situations because of the vaccination requirement?"
Impacts of Land Border Crossing Proof of Vaccination Mandate on Agricultural Employers
On January 22, 2022, the Biden administration implemented a mandate requiring noncitizen nonimmigrants crossing into the U.S. through land ports of entry to show proof of full vaccination against COVID-19 with a WHO/CDC approved vaccine.  NCAE became aware of the possibility of this mandate in November 2020 and the challenges it would create for employers of H-2A workers. NCAE has tried repeatedly since becoming aware of this requirement to explain the impact of the regulation on the H-2A community and domestic food security to the Biden Administration.
In early April, NCAE partnered with the National Center for Farmworker Health (NCFH) to conduct a survey assessing the consequences of this rule on H-2A employers. Survey respondents were asked about their experiences and the impacts it has had and is expected to have on their ability to recruit and transport workers.
Respondents answered the question, "Has this requirement created any challenges for your enterprise in recruiting properly vaccinated H-2A workers?"
Respondents, who indicated they were aware of the vaccine mandate, were asked, "how would you describe the effect of this requirement on your business?"